Vitality conference spotlighted charisms
16-11-2016
Let God work through you to set the world ablaze, Deacon Keith Strohm told over 300 keynote attendees Nov. 10 at the launch of the second Parish Vitality Conference (PVC) held at Mary Queen of the World Cathedral.
The former Director of Evangelization of the Archdiocese of Chicago headlined the conference, themed "Unleashing Our Gifts" - code word for charisms - and presented four follow-up workshops during the Nov. 11-12 session, held at La Plaza Hotel in downtown Montreal.

A teacher of the "Called and Gifted" program offered by the Catherine of Siena Institute in Colorado Springs, Strohm focused largely on charisms - the gifts from the Holy Spirit ­- as a key element in identifying how each one of us is called to serve God and neighbour. Threaded through his stream of workshops, Strohm demonstrated both how to recognize and foster these charisms as well as how this approach can help to revitalize and build faith communities that comprise missionary-minded parishioners and parish leaders.


About 270 participants from over 70 parishes registered for the three-day event, which included 50 local parishes (30 anglophone, 10 francophone and 10 cultural). Also, among the attendees were representatives from the dioceses of Rimouski, Alexandria-Cornwall, Ogdensburg, N.Y., St. Boniface, Man., and from as far away as Bridgetown, Barbados. Participants chose from a schedule of 17 "How-to" workshops, streamed under four areas of parish and faith life: Gifts and Discipleship, Evangelization, Ministry and Online Outreach.
Local Picture
In addition, Bishop Thomas Dowd, VG, offered a public talk on Friday morning to share what he had learned during the five-year stretch of pastoral visits he had made while episcopal vicar to the English-speaking faithful. Attendees received an overall picture of the viability of the local English-language parishes, and learned how vitality, though not synonymous with viability, can be attained by transforming parishes into centres of discipleship.
Tools Offered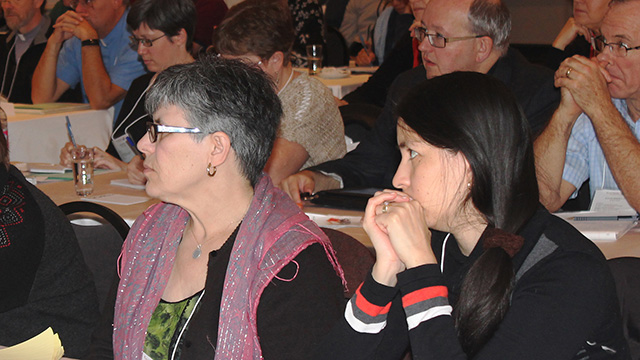 Other workshops highlighted ministry and evangelization tools and resources in their presentations of programs, such as Alpha Canada, Divine Renovation and Parish Renewal Experience (PREX).

Several out-of-town participants expressed great enthusiasm in bringing what they had learned back to their local community:

"The Vitality Conference was not only a wonderful learning experience, I totally enjoyed my three days with all of you...  I must say that I have already begun using what I learned in my work [for the] Archdiocese of St. Boniface," says Bernie Quennelle from the Archdiocese of St. Boniface, Manitoba.

Capping the second day of the conference, the English Speaking Catholic Council (ESCC) hosted a Catholic Community Rally at which Fr. John Baxter received the Bishop Crowley Memorial Award.

Organized by the Office for English Pastoral Services at the Archdiocese of Montreal, the conference was the second Parish Vitality Conference; the inaugural PVC was held November 2014.